DALHART, TEXAS – Beginning October 24, 2022, Apollo MedFlight will be the preferred emergency medical flight transportation partner for Dallam Hartley Counties Hospital District. Emergency flights made by Apollo will be at no cost to patients, thanks to a contract between Dallam County, Hartley County and Apollo MedFlight.
"We are excited to have Apollo servicing the Dallam-Hartley area during critical times in the lives of citizens," said Wes Ritchey, Dallam County Judge. "Their contract with the counties enabling citizens to have a free of cost option for emergency flights is a tremendous asset for our area."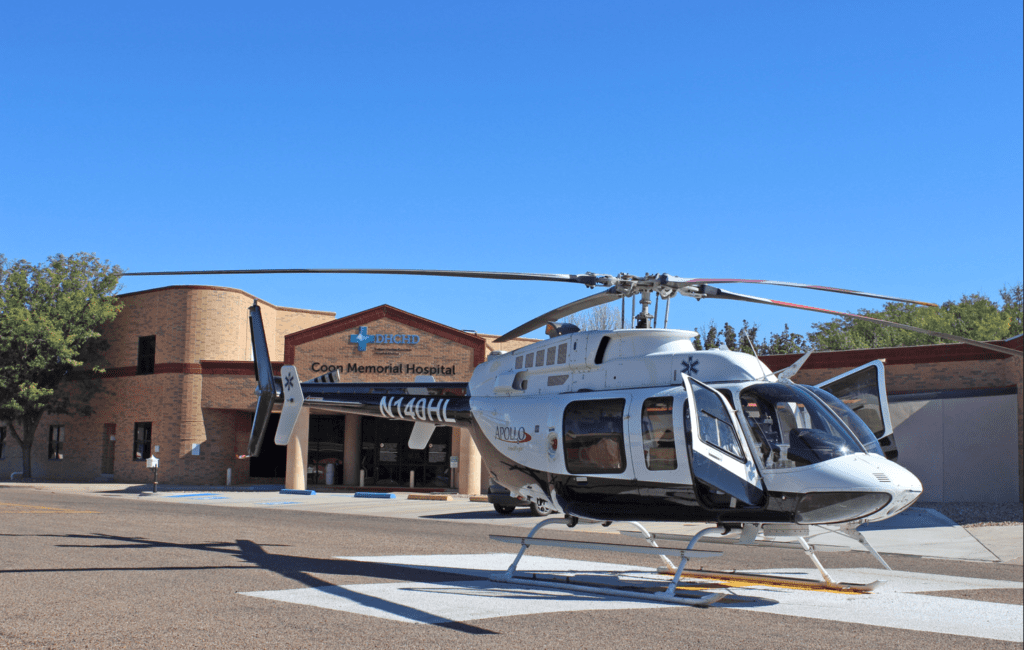 Apollo MedFlight helicopters and their crews provide high-level critical care and rapid transportation in emergency situations.
"Apollos's services will complement the wonderful healthcare system that already exists in Dalhart," said Brandon Leasure, Executive Vice President of Business Development at Apollo MedFlight. "It will improve access to rapid air transport for thousands of residents in Dalhart and the surrounding area who require a higher level of care after a medical or traumatic emergency."
Leasure also stated rapid transport can be the difference between life and death after medical and traumatic emergencies. With this partnership, Apollo will have a helicopter based at Dalhart Municipal Airport and would be called first when air transport is required.
"Apollo has already impressed me with their response time, quality improvement meetings, and community outreach," said DHCHD CEO Kacey Schniederjan. "They will be an asset to this community and go above and beyond to care for the patients who come into DHCHD. I feel blessed to have county commissioners who are so dedicated to the health and well-being of our community."
Any patient who resides within Dallam or Hartley counties will be eligible for this free emergency transportation, should the situation arise.
"Both counties are pleased to announce we have contracted with Apollo for our air medical transportation," said Hartley County Judge Ronnie Gordon. "All residents of Hartley and Dallam Counties will be covered."
Dallam Hartley Counties Hospital District, located in Dalhart, Texas, is a healthcare system designed to serve the community at every stage of life. Offering services including obstetrics, surgery, radiology, and swing bed at Coon Memorial Hospital, providing wellness and rehabilitation services at family practice or specialty clinics, or caring for seniors through long-term care facilities, DHCHD's mission is to provide quality healthcare close to home. To learn more, visit www.dhchd.org.
###
Media Contact:
Michelle Macha, Marketing Director
806.244.9258