Dallam Hartley Counties Healthcare Foundation, Inc.
Supporting Rural Healthcare Close to Home
2023 Student Scholarship Application
Application Deadlines:
March 31, 2023, noon, for fall 2023
Grant Amount & Duration of Payments:
Between $750 – $1,500 per semester
Up to two semesters; maximum $3,000
Deliver the completed application to the DHC Healthcare Foundation office in Coon Memorial Hospital, room 236. Joyce Bezner, 806-268-2284.
Panhandle Gives Results 2022
Total Raised: $53,026.43
We are excited to continue our mission to invest in the people, equipment, and services that enable excellent healthcare for our counties. Thank YOU, generous Dalhart donors!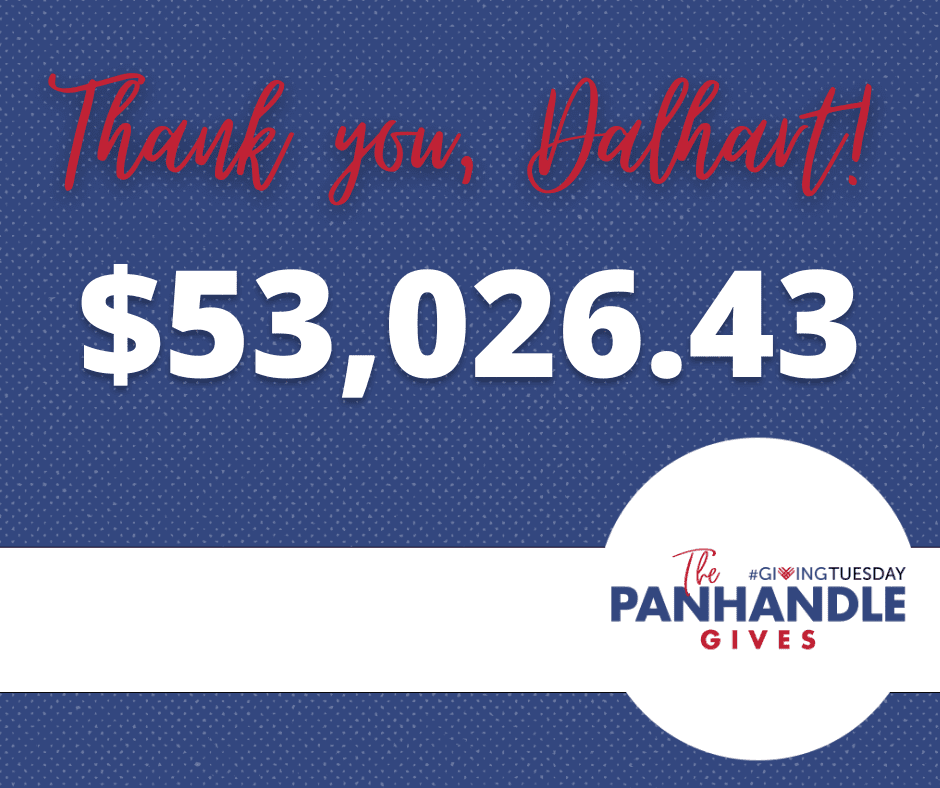 Mission Statement
The Dallam Hartley Counties Healthcare Foundation supports the Dallam Hartley Counties Hospital District healthcare services by advocating for healthcare services and raising funds to enhance programs, equipment, scholarships and facilities in Dallam and Hartley Counties.
Board of Directors
Julia Williams, Purpose Coffee Company, Chairperson
Carole Farris, Community Volunteer, Past Chair
Lacynda Hunter, The Flying Pig Mercantile & Coffee Bar , Treasurer
Sara Heiser, Community Volunteer/Retired LVN
Bryce Howard, Farmer, VP/Secretary
Scott Kirby, Hilmar Cheese Company
Coby Cummings, Realtor
Joyce Bezner, Fundraising Consultant 
We benefit the rural patients and residents of…
Coon Memorial Hospital
Coon Memorial Nursing Home
Legacy Assisted Living
Dalhart Family Medicine Clinic
High Country Community Rural Health Clinic
Dalhart Physical Therapy and Sports Medicine
Coon Memorial Hospice 
How to Give
Cash
Check
Online
In-kind
You may designate to a specific program, piece of equipment, scholarships, campaign or general fund.
You may give your gift in honor or in memory of a loved one and the Foundation will notify their family of your gift.
Click here to make online donation.

Want to Volunteer for the Foundation
Help rural healthcare by volunteering doing office/clerical work, greeting& hosting at hospital entries, gardening work, and special event  work.
Call 806-244-4571, Ext 1987 or email volunteer@dhchd.org
Office Hours
Please contact Joyce Bezner for appointments.
Office Location and Contact Information
Joyce Bezner, Fundraising Consultant
Dallam Hartley Counties Healthcare Foundation, Inc.
1411 Denver Avenue
Dalhart, TX 79022
Second floor, room 238
806-244-4571, Ext. 1987
Joyceb@dhchd.org or 806-268-2284
Please Join Our Email List to Receive DHD Healthcare Foundation Newsletters, Reports and Event Dates.
"THE DALLAM-HARTLEY COUNTIES HOSPITAL DISTRICT ADOPTED A TAX RATE THAT WILL RAISE MORE TAXES FOR MAINTENANCE AND OPERATIONS THAN LAST YEAR'S TAX RATE."
"THE TAX RATE WILL EFFECTIVELY BE RAISED BY 7.99 PERCENT AND WILL RAISE TAXES FOR MAINTENANCE AND OPERATIONS ON A $100,000 HOME BY APPROXIMATELY $14.19"
A long-term care ombudsman helps residents of a nursing facility and residents of an assisted living facility resolve complaints. Help provided by an ombudsman is confidential and free of charge. To speak with an ombudsman, a person may call the toll-free number 1-800-252-2412.