Coon Memorial Nursing Home
Personalized, Compassionate Care
At Coon Memorial Nursing Home, we concentrate on giving our residents the support and assistance they need. Located next to Coon Memorial Hospital, this long-term living facility provides the care people need as their medical problems become more difficult.
Our facility offers both private and semi-private rooms. As much as possible, individuals in our two-wing facility are grouped by the level of care they need. All residents have round-the-clock care that includes:
Transfer assistance in and out of a bed or chair
Help with bathing and dressing
We also offer a range of activities, including music, exercise, and special programs. Landscaped grounds and a gazebo give residents a comfortable place to visit with family members or just enjoy some fresh air.
In addition, Memory Lane is an alternative for residents who are suffering from confusion. This special unit has fenced outdoor areas and secured exits to ensure our residents' safety and security. Memory Lane also offers special programming to promote interaction with others and to help bring more enjoyment to each day.
Coon Memorial Nursing Home also offers respite care. This allows people to stay for only a few days while their caregivers can get some much-needed rest.
Coon Memorial Nursing Home is located at 210 E Texas Blvd. Please contact us at (806) 244-8555 to learn more about Coon Memorial Nursing Home.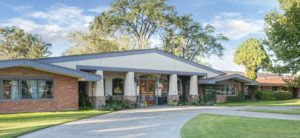 "THE DALLAM-HARTLEY COUNTIES HOSPITAL DISTRICT ADOPTED A TAX RATE THAT WILL RAISE MORE TAXES FOR MAINTENANCE AND OPERATIONS THAN LAST YEAR'S TAX RATE."
"THE TAX RATE WILL EFFECTIVELY BE RAISED BY 7.99 PERCENT AND WILL RAISE TAXES FOR MAINTENANCE AND OPERATIONS ON A $100,000 HOME BY APPROXIMATELY $14.19"
A long-term care ombudsman helps residents of a nursing facility and residents of an assisted living facility resolve complaints. Help provided by an ombudsman is confidential and free of charge. To speak with an ombudsman, a person may call the toll-free number 1-800-252-2412.