COVID- 19 Information & Community Resources
How to get a COVID – 19 test
Q: How do I get a COVID-19 test?
A: Call (806) 244-5668 and ask to make an appointment with your provider and that you would like a COVID-19 test. Your provider will determine if one is needed. Call (806) 244-9251 after hours.
COVID Vaccine Clinic Info
More Clinic Information Coming Soon 
If you are unable to leave your home for a COVID-19 vaccine, and you live in the Dallam & Hartley Counties area, please call 806.244.9259. You will reach a voicemail, please leave your full name, DOB, and a return phone number so we may contact you to schedule your vaccine appointment.
Próximamente más información sobre la clínica
Si no puede salir de su casa para recibir la vacuna COVID-19 y vive en el área de los condados de Dallam y Hartley, llame al 806.244.9259. Se comunicará con un correo de voz, deje su nombre completo, fecha de nacimiento y un número de teléfono para que podamos comunicarnos con usted para programar su cita de vacunación.
Stay, Shop, Eat in Dalhart: https://www.dalhart.org/
COVID – 19 Report Cards – Click here
 COVID – 19 Recourses and Information
COVID -19 Informational Videos – Click here
COVID -19 Testing Drive Route: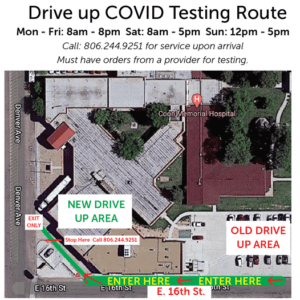 "DALLAM/HARTLEY COUNTIES HOSPITAL ADOPTED A TAX RATE THAT WILL RAISE MORE TAXES FOR MAINTENANCE AND OPERATIONS THAN LAST YEAR'S TAX RATE."
"THE TAX RATE WILL EFFECTIVELY BE RAISED BY 8 PERCENT AND WILL RAISE TAXES FOR MAINTENANCE AND OPERATIONS ON A $100,000 HOME BY APPROXIMATELY $8.80."