COVID- 19 Information & Community Resources
COVID Vaccine Clinic Info (Updated on 11.18.21) 
Friday, November 19th @4pm – 6pm
No Clinic Thanksgiving Week
Friday, Dec 3rd @ 4pm – 6pm
Friday, Dec 10th @ 4pm – 6pm
DHCHD will be offering COVID-19 Pfizer and Moderna vaccine free of charge to people who meet these requirements:
Requirements:
Pfizer-BioNTech or Moderna COVID-19 vaccine shot at 6 months or more after their initial series and are 18+.
Johnson & Johnson 18+ and who were vaccinated two or more months ago.
Persons 12+ who need 1st or 2nd vaccine doses.
Please bring with you:
COVID-19 Vaccine Card
Form of ID (If Available)
Clinics will be held at DHCHD Café located at 1411 Denver Ave. Dalhart, TX 79022.
**Regarding the  J&J vaccines. At this time (11.1.21) DHCHD does not  have this vaccine on hand. 
** Regarding vaccination for children age 5-11-years-old. We will not be giving pediatric vaccinations at the clinic. Please call your primary care provider for further guidance or 806.244.5668 to make an appointment. More Info
Questions? Email us at: marketingteam@dhchd.org
COVID Vaccine Info (if you are unable to attend the clinics). 
If you would like a COVID vaccine please call 806.244.5668. From there an appointment will be made for you to get your vaccine.
Call (806) 244-5668 and ask to make an appointment with your provider and that you would like a COVID-19 test.
Your provider will determine if one is needed.
Call (806) 244-9251 if after hours.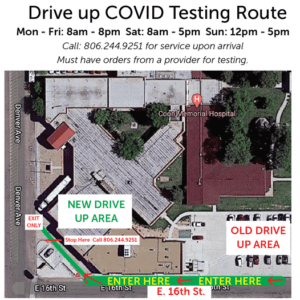 DHCHD Facility Mask Policy
Vaccinated and un-vaccinated individuals will be required to wear a mask inside the hospital district at all times. This includes staff and visitors. Updated on 11/18/21
"THE DALLAM-HARTLEY COUNTIES HOSPITAL DISTRICT ADOPTED A TAX RATE THAT WILL RAISE MORE TAXES FOR MAINTENANCE AND OPERATIONS THAN LAST YEAR'S TAX RATE."
"THE TAX RATE WILL EFFECTIVELY BE RAISED BY 7.95 PERCENT AND WILL RAISE TAXES FOR MAINTENANCE AND OPERATIONS ON A $100,000 HOME BY APPROXIMATELY $8.45"