Dallam Hartley Counties Hospital District will be hosting a community health fair on Friday, October 13, 2023, from 7:30 a.m. to 1:30 p.m.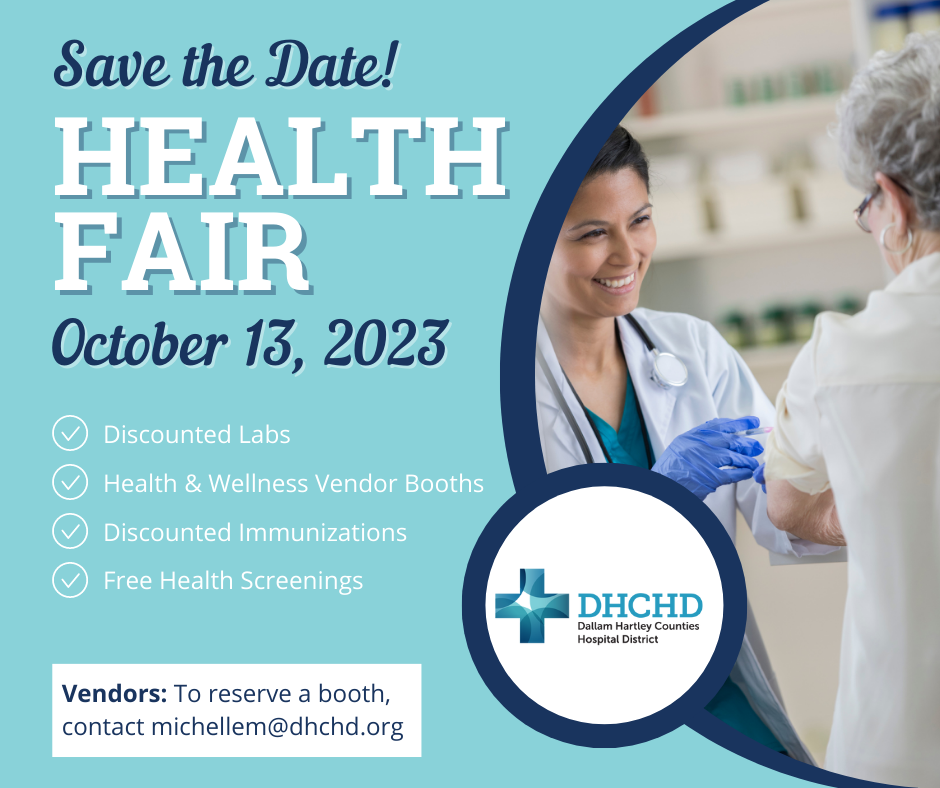 The health fair, which is free for all attendees, will take place in the cafeteria inside Coon Memorial Hospital at 1411 Denver Ave in Dalhart, Texas. The event will feature booths from various DHCHD departments offering information on our services, as well as vendor booths from other local health and wellness providers. DHCHD will be offering discounted lab services, as well as discounted immunizations. In addition, the café will be hosting an open house, with breakfast and lunch options available.
"We are excited to bring back a full-fledged health fair to our community," said Michelle Macha, DHCHD Marketing Director. "This is a great time to get your annual lab tests, get your flu shot, and meet some of the new faces at the hospital."
Discounted lab testing will be provided for $10 per person, regardless of insurance status. This will include CBC, CMP, LIPID and HbA1C tests. Flu shots, pneumonia vaccines, shingles vaccines, and whooping cough/pertussis vaccines will be offered for $10 each. Dalhart Physical Therapy and Sports Management will provide free screenings for occupational, speech and physical therapy. The DHCHD pain management clinic and the behavioral health clinic will provide free assessments for those interested.
The discounted lab testing can be done on the day of the health fair or within two weeks following the event. For more information about the health fair, please visit www.dhchd.org/2023-health-fair. This webpage will be updated regularly as the event approaches.
Any vendors interested in hosting a booth at the health fair should contact Michelle Macha at michellem@dhchd.org.