As the elderly population in the United States continues to grow, the need for reliable and efficient transportation services for seniors has become increasingly important. Fortunately, there are dedicated professionals like DHCHD's Mary Swecker who are committed to providing safe and comfortable transportation services to residents at Coon Memorial Hospital and Legacy Assisted Living.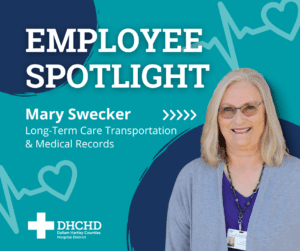 Mary is in charge of long-term care transportation and medical records for the nursing home and assisted living facility. She sets up residents' doctor appointments and ensures they have transportation to and from their visits that are out of town. With 15 years of experience at DHCHD and within the nursing home, Mary has developed a reputation for her compassionate approach to serving the elderly community.
One of the unique aspects of Mary's service is the level of personal attention she provides to each resident. Unlike many transportation providers who treat their passengers as mere numbers, Mary takes the time to get to know each resident and understand their unique needs and preferences.
"This is most of our residents' last home," Mary said. "And if you can brighten their day in any way, maybe just a smile or a hug, that to me is very important.  I love that I get one-on-one time with those that I take to appointments. It is really interesting to just sit and talk with them. They've got a lot that they can share, and each one of them is unique."
Overall, Mary's transportation services are an essential lifeline for many nursing home residents who would otherwise be unable to travel to important appointments. Through her dedication to personal attention, safety, and respect, she has become a trusted friend to the long-term residents here in Dalhart.
"I feel like we've got a great nursing home here," she said. "It is always clean. The staff is good. We've got some CNAs that have worked here a lot longer than I have. They know what they are doing, and we are blessed to have the memory lane here. Not all nursing homes have that, and I think there is a real need for that. We are blessed to have this facility here and have the administrators we do. They do a great job in leadership."
Outside of work, Mary enjoys taking care of flowers and spending time with her grandchildren. She also spends time with her husband on the farm and tending to their cattle.