In the heart of a Coon Memorial Hospital, there is a nurse whose dedication and commitment to patient care have been a guiding light for years. Meet Jamie Martin, a remarkable nurse with a heart of gold, who is now on a journey of pursuing her dream to become a midwife.
For more than 20 years, Jamie has been an integral part of our hospital's healthcare team. Her warm smile, comforting presence, and compassionate touch have left a lasting impression on both patients and colleagues alike. She thrives in a fast-paced environment, always ready to lend a helping hand and provide solace to those in need.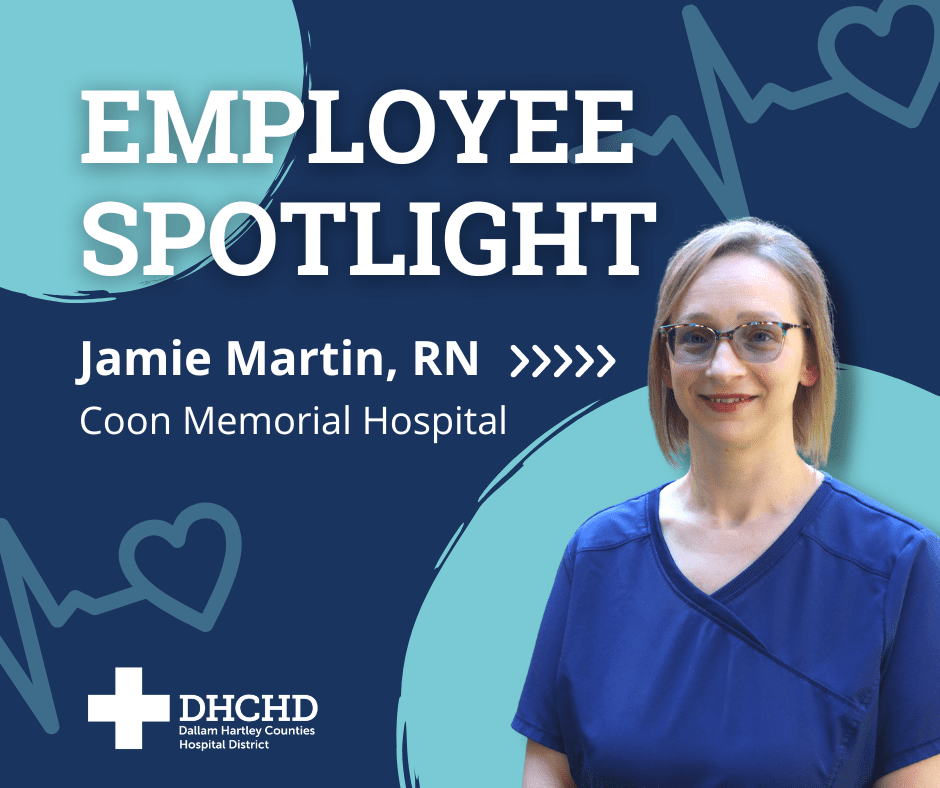 Jamie's healthcare career began in 1999 when she became an LVN. She then went on to become a registered nurse in 2006. For the past two years, she has been attending school online to become a certified nurse midwife. CNMs provide care to women from adolescence through the menopausal years. For pregnant women, they provide care during prenatal visits, attend the birth, and provide care after the baby is born.
"My favorite part of being a nurse is making a difference in someone's day and life," Jamie said. "My hope is to continue for the district after completing my CNM program and maybe have a clinic space where I can see patients and also deliver and take care of babies here at the hospital. Once I receive my certification, I will be able to provide primary care for women and take care of their babies up to 28 days of life."
For Jamie, being a nurse is not just a job; it's a calling to serve and make a positive impact on the lives of others. Her dedication to going above and beyond the call of duty is nothing short of extraordinary. In moments of crisis and uncertainty, Jamie's composed demeanor and unwavering strength have proven to be a pillar of support for both patients and fellow nurses. She remains calm under pressure, always ready to step up and take charge during critical situations. Her leadership and teamwork skills have fostered an environment of trust and unity among her colleagues.
"I think it is important that the community knows that we are here and know that we are supportive and want to take care of people of all walks of life," Jamie said. "We want to make sure everyone receives care in our community, and we will take the best care of you while you are here that we can. Sometimes we don't always have what patients need, but we can help refer you on to get what you need. We have the resources to ensure you get the care you need after you leave here."
Jamie Martin represents the true essence of what it means to be an exceptional nurse. Her compassionate nature, clinical expertise, leadership, and dedication to her patients and colleagues make her a shining star in our hospital and throughout DHCHD. We are honored to have her as part of our team and celebrate her as an inspiration to all nurses who aspire to make a meaningful difference in the lives of others.