In a world where kindness and compassion can make all the difference, volunteer programs hold immense power to uplift communities and transform lives. Among the most impactful initiatives are those found in hospitals and nursing homes, where volunteers provide invaluable support to patients and residents alike. Hannah Green, the community relations coordinator for DHCHD, is working to revamp and reinstate the volunteer program for the hospital district.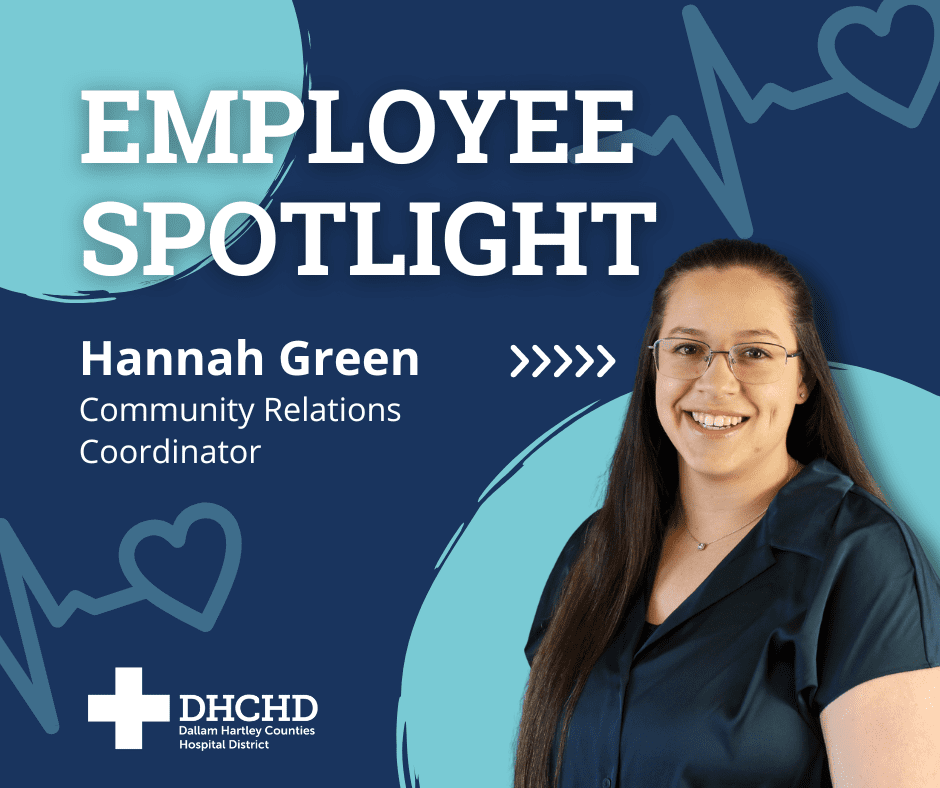 Hannah, a 2017 graduate of Hartley High School, is familiar with our community and is excited to use her skills to organize and bring back a volunteer program to Coon Memorial Hospital, as well as the nursing home and assisted living facility. The previous program was disbanded during COVID, but hospital leadership is eager to see it return.
Volunteering is a great way to give back to the community. Donating time, skills and knowledge can help organizations benefit more people that need help. Specifically at DHCHD, we are looking to have volunteers visit with and deliver newspapers to hospital patients, help with activities at the hospital and nursing home, visit hospice patients, assist the nursing staff, and more.
"I am hoping to not only bring back some of the past volunteers who have stopped coming since COVID but also incorporate a lot more of the younger generation," Hannah said, "either high schoolers or college level kids, to get them more involved in the community as well as with patients."
Volunteers offer companionship and emotional support to patients, lending an empathetic ear and a caring presence during their hospital stay. They provide comfort, engage in meaningful conversations, and offer respite from the loneliness that can often accompany illness. In the nursing home, volunteers organize recreational activities and events to enhance the residents' quality of life.
The volunteer program not only brings immeasurable benefits to patients and residents but also offers volunteers an enriching and transformative experience. Engaging in meaningful service work allows individuals to connect with their communities, develop empathy and interpersonal skills, and gain a broader perspective on life's challenges. Volunteers often report feeling a deep sense of fulfillment, purpose, and personal growth as they witness the positive impact they have on the lives of others.
"I look over my volunteer experiences from when I was in high school until now and I remember nothing but fond memories," Hannah said. "Volunteering can make a huge difference to those you are helping, but it makes as big if not a bigger impact on you. I encourage everyone to find somewhere to volunteer! Volunteering opens doors, makes a positive impact on the community, and is good for the soul."
Hannah is also DHCHD's designated patient advocate, so she will serve as the main point of contact for any patient feedback or complaints. She also assists with the healthcare foundation and marketing department at DHCHD.
"I enjoy being able to be involved in the community and hearing from both sides on things we can improve on," she said.
To contact Hannah regarding the volunteer program or patient advocacy, email hannahg@dhchd.org or call 806.24424571 ext. 1930.