DALHART, TEXAS – Bruce Schubert, PA-C, has announced his retirement from Dallam Hartley Counties Hospital District, effective January 1, 2023.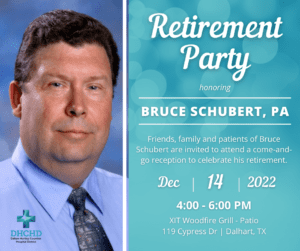 Schubert has served DHCHD and the Dalhart community for the past 29 years, where he has provided exceptional care to many patients and families. He will continue seeing patients throughout the month of December, but his clinic hours will be shortened beginning December 8.
"Bruce has been an asset for many years to both the hospital district as well as the community," said Kacey Schniederjan, DHCHD CEO. "He will be deeply missed by his patients, our team here at DHCHD, and myself. Bruce has been a provider, leader, policy maker and friend to many. We wish him luck in his future travels and hope to bring him back from time to time for his wealth of knowledge."
A retirement party will be held at XIT Woodfire Grill on December 14 from 4:00 – 6:00 p.m. to celebrate Schubert's career. All former patients, friends and family are welcome to attend.
Dallam Hartley Counties Hospital District, located in Dalhart, Texas, is a healthcare system designed to serve the community at every stage of life. Offering services including obstetrics, surgery, radiology, and swing bed at Coon Memorial Hospital, providing wellness and rehabilitation services at family practice or specialty clinics, or caring for seniors through long-term care facilities, DHCHD's mission is to provide quality healthcare close to home. To learn more, visit www.dhchd.org.
###
Media Contact:
Michelle Macha, Marketing Director
806.244.9258