DALHART, TEXAS – Dallam Hartley Counties Hospital District is pleased to host two comprehensive immunization clinics for students, in collaboration with Dalhart Independent School District. The clinics, focused on administering all school-required vaccines, will take place on Friday, July 28, from 3:00 to 7:00 p.m. and Saturday, July 29, from 10:00 a.m. to 2:00 p.m. at Dalhart Family Medicine Clinic, located at 206 E. 16th Street in Dalhart.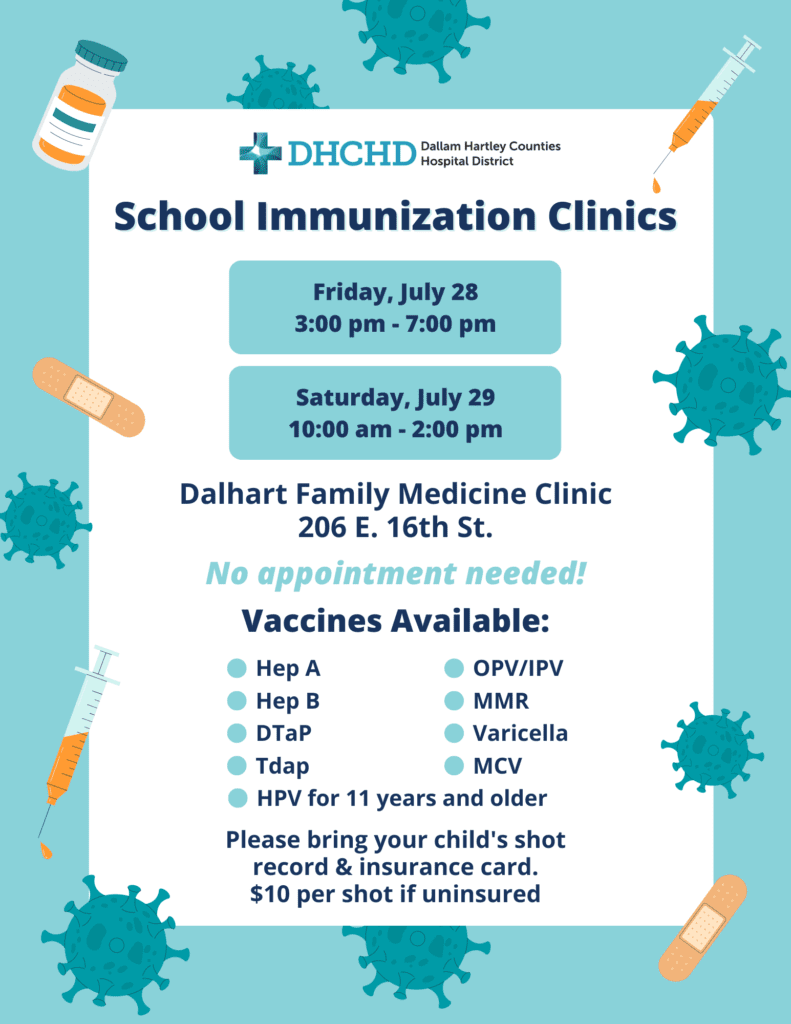 As part of our commitment to promoting public health and ensuring the well-being of students, DHCHD is organizing this clinic to administer all school-required vaccines. We understand the critical role that immunizations play in safeguarding the health of students and preventing the spread of vaccine-preventable diseases within educational environments.
"The school immunization clinic will offer a comprehensive range of vaccines that align with the immunization requirements set forth by the State of Texas," said Michelle Macha, DHCHD Marketing Director. "These include vaccines for diseases such as measles, mumps, rubella, diphtheria, tetanus, pertussis, and hepatitis B, among others. By providing these required vaccinations in a convenient and accessible manner, we aim to streamline the immunization process for students and their families."
The clinics are open to all students attending schools in Dalhart, Hartley, Texline, Channing, and the surrounding areas, regardless of grade level or vaccination status. Our skilled and experienced healthcare professionals will be on-site to administer the vaccines, provide compassionate care and address any questions or concerns. Parents and guardians are encouraged to accompany their children to the clinic to ensure the completion of any necessary consent forms. Please bring your child's shot record and insurance card. If uninsured, each shot with be $10.
For more information about the school immunization clinic, including specific vaccine requirements, consent forms, and frequently asked questions, please visit www.dhchd.org or call Mindy Smith, DHCHD Clinic Nursing Supervisor, at 806-244-5668.
Dallam Hartley Counties Hospital District, located in Dalhart, Texas, is a healthcare system designed to serve the community at every stage of life. Offering services including obstetrics, surgery, radiology, and swing bed at Coon Memorial Hospital, providing wellness and rehabilitation services at family practice or specialty clinics, or caring for seniors through long-term care facilities, DHCHD's mission is to provide quality healthcare close to home. To learn more, visit www.dhchd.org.
###
Media Contact:
Michelle Macha, Marketing Director
806.244.9258