Easier Diagnosis, Quicker Answers
Through Teledermatology, patients can consult with a dermatologist for help with a variety of skin conditions. Your primary care physician can refer you to Teledermatology. You can then easily consult with a dermatologist in Lubbock, without having to travel to an appointment.
Our TeleNICU is available 24/7 when newborns have serious health problems. Local physicians can consult with neonatologists at Cook Children's Medical Center in Fort Worth. The physicians at Cook Children's Level IV NICU can use their expertise to help Coon Memorial physicians determine the best care for newborns.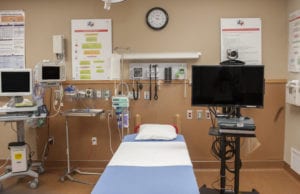 "THE DALLAM-HARTLEY COUNTIES HOSPITAL DISTRICT ADOPTED A TAX RATE THAT WILL RAISE MORE TAXES FOR MAINTENANCE AND OPERATIONS THAN LAST YEAR'S TAX RATE."
"THE TAX RATE WILL EFFECTIVELY BE RAISED BY 7.99 PERCENT AND WILL RAISE TAXES FOR MAINTENANCE AND OPERATIONS ON A $100,000 HOME BY APPROXIMATELY $14.19"
A long-term care ombudsman helps residents of a nursing facility and residents of an assisted living facility resolve complaints. Help provided by an ombudsman is confidential and free of charge. To speak with an ombudsman, a person may call the toll-free number 1-800-252-2412.