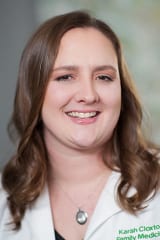 Contact Information:
Office: 320 East Texas Blvd. in Dalhart
Phone: (806) 249-8324
Fax: (806) 249-8412
Dr. Karah Cloxton is a Family Practitioner who also provides obstetrical care.
Education:
Dr. Cloxton received her medical degree from Marshall University John C. Edwards School of Medicine. She also completed a Family and Community Health Residency at the same school and a Women's Health Fellowship at the University of Illinois College of Medicine.
Certification:
Dr. Cloxton is board certified in Family Medicine, as well as being certified in Advanced Cardiac Life Support, Pediatric Advanced Live Support, Advanced Life Support in Obstetrics, and the Neonatal Resuscitation Program.
"THE DALLAM-HARTLEY COUNTIES HOSPITAL DISTRICT ADOPTED A TAX RATE THAT WILL RAISE MORE TAXES FOR MAINTENANCE AND OPERATIONS THAN LAST YEAR'S TAX RATE."
"THE TAX RATE WILL EFFECTIVELY BE RAISED BY 7.95 PERCENT AND WILL RAISE TAXES FOR MAINTENANCE AND OPERATIONS ON A $100,000 HOME BY APPROXIMATELY $8.45"